FAQ & Training Tips
We want your Gotta Go Grass experience to be pleasant and convenient. Explore our frequently asked questions below.
General FAQ
Why Should I Buy Gotta Go Grass?
Gotta Go Grass brings convenience to the lives of dogs and their owners. Whether you you're your life on an unending road trip, are in a dangerous neighborhood, live in a high-rise, or don't relish going out for a needed walk in the middle of the night, Gotta Go Grass makes your life easier–and brings your dog peace of mind.
What Sizes Do You Offer?
You choose your size. At Gotta Go Grass we know no two dogs, or two homes, are the same. Gotta Go Grass uses interlocking trays that let you build the size you need. All Gotta Go Grass pieces are 16inx24in. Purchase single or double packs to build the size needed for your particular doggo. Gotta Go Grass is available with or without trays so you can order just what you need.
Can the Grass Get Wet? Do I Water it?
Watering your Gotta Go Grass will extend its life. However, pay attention to your doggy because wet grass might make for an unhappy situation. Generally dogs don't much care about the color of the grass as long as it's not soggy and is free of doggie dodo.
When Should I Replace Gotta Go Grass?
Depending on number of dogs, size of dog, and frequency of use your experiences will vary but with standard daily use you will typically see Gotta Go Grass last for two to four weeks.
Is Gotta Go Grass Good for the Environment?
Gotta Go Grass is natural and biodegradable–it's grass and soil. When your doggo is done using it simply place it on the compost heap and let Mother Nature handle the rest. If your living situation does not allow for a compost, placing it in the trash is fine as it will degrade naturally and not add to the local landfill.
Do I Water or Cut the Grass?
Gotta Go Grass upkeep is up to you! Using your discretion you can apply waterings and trimmings. Gotta Go Grass is just like a plant, and its life will be extended with water, sunlight, and grooming.
If your pet pees, no cleanup is needed. However, if your pet goes poo on the grass, simply pickup with a doggie bag and wipe the grass off with a wet paper towel.
Training FAQ
How Do I Train My Dog To Go On Gotta Go Grass?
Figure out a location where your dog will be relaxed using Gotta Go Grass. Set the tray and grass in place and encourage her to try it out by placing her regularly used leash directly on the grass. Watch how she behaves. If she's reluctant, sit down yourself and invite her to join. Encourage behaviors like smelling and pawing at the grass. Make Gotta Go Grass feel like a walk outside. Your comfort level builds hers. Patience, praise, and reinforcement lead to success.
Can The Use of Rewards Be Helpful?
Always reward your doggie immediately. Provide treats and praise when she attempts usage even when the result is a clear miss.
Is It Okay To Move Gotta Go Grass?
Remember that our doggies are creatures of habit so avoid relocating Gotta Go Grass. Select a location where he will be relaxed and comfortable. Set him up on a regular schedule as would be done with walks: morning, noon, evening or if a puppy every 4 hours depending on his size.
Does Gotta Go Grass Help Puppy Train
Yes! Gotta Go Grass helps train puppies to go on grass and not other surfaces. Sometimes the need for potty breaks can sneak up on a dog…especially puppies. Keep an eye out for signs your doggo needs to go now: he comes to a sudden stop, he begins circling, he begins sniffing intensely, he butt is being kept on the ground and possibly dragged a bit. When you observe these signs immediately get him to Gotta Go Grass. Reward that use right afterward.
How Can I Help Gotta Go Grass Seem Normal?
How Can I Help Gotta Go Grass Seem Normal?
If time to go usually means a walk on a leash, put on the leash and go to Gotta Go Grass and wait as you normally would while she sniffs and pokes around. Use the same language doggie is used to hearing on walks. Remember that you should still take your special girl out for walks too because they're fun bonding moments for both of you.
Can I Keep Our Old Potty Training Device Just In Case?
We recommend removing any previous potty training products to keep things clear to your dog.
Should I Use Scents?
Yes, you can place a used piddle pad place it under the grass so when he smells the grass it is familiar. Or go the other way and have a neighbor's dog piddle on a paper towel and place that under the grass to encourage your dog to mark his territory. Commercially available pheromone sprays are also a route for establishing comfort.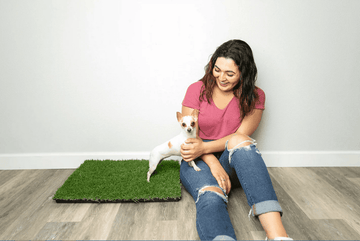 Need Assistance?
Contact our in house training expert to get personalized help for your doggo!
866-288-3820