Blog
Pup-tastic Costumes: Unleash the Dog Halloween Costume Halloween Spirit in Style
by Jamie Tedder on Oct 30, 2023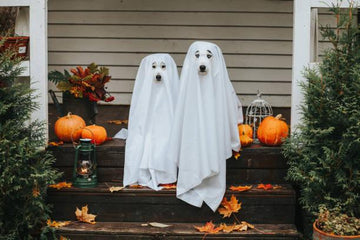 Halloween is a time for creativity, and it's not just humans who get to enjoy the fun. Pet owners across the globe have discovered a new way to immerse themselves in the Halloween spirit – by dressing up their beloved dogs in adorable and spooky costumes. In this article, we will delve into the fascinating world of dog costumes, exploring the reasons why pet owners adore this tradition. We'll offer insights on how to choose the perfect costume for your furry friend, provide step-by-step instructions for crafting DIY dog Halloween costumes, discuss the latest trends in dog Halloween fashion, emphasize safety and comfort, highlight the increasing popularity of dog costume contests, and offer tips for capturing the cuteness of your costumed canine in photos. So, let's embark on a journey of paw-some Halloween creativity and celebrate the joy of dressing up dogs for this special occasion. 
Why Dress Up Your Pooch for Halloween?
Why do pet owners love to dress up their dogs for Halloween? It's a question that has a multitude of heartwarming answers. Firstly, it's all about bonding. Many pet owners consider their dogs to be cherished members of their family. Halloween presents the perfect opportunity to include your furry companion in the festivities, further solidifying your bond.
Moreover, dressing up your dog for Halloween adds an extra layer of excitement to the holiday. It's not just about carving pumpkins and munching on candy; it's about involving your canine friend in the fun. The joy of watching your dog prance around in a costume is immeasurable, and it's a memory that lasts a lifetime. 
Selecting the Right Costume
Choosing the perfect costume for your dog is essential. Look for costumes that are easy to put on and take off, comfortable for your pet, and allow for unrestricted mobility. It's crucial to consider your dog's size and personality when selecting a costume. Whether your dog is a superhero or a classic pumpkin, make sure the costume suits their style.   
The process of dressing your dog in their Halloween costume should be hassle-free. Look for costumes with simple designs and closures that are easy to put on and take off. This is especially important if your dog isn't accustomed to wearing clothing. The last thing you want is to struggle with a complex costume that causes stress for both you and your pet. Your dog's personality should influence your costume choice.  
If your pet is outgoing and loves attention, you can go for a more extravagant and attention-grabbing costume. However, if your dog is a bit on the shy side, a simpler, less elaborate costume might be a better choice. Make sure the costume aligns with their temperament to ensure a positive and enjoyable experience. 
It's worth noting that some dogs might not enjoy wearing costumes at all. If your dog appears uncomfortable, agitated, or anxious when dressed up, it's perfectly fine to skip the costume and find other ways to celebrate Halloween together.  
Selecting the right costume for your dog is a thoughtful process that involves considering their comfort, size, and personality. When done correctly, it can add a special touch to your Halloween celebrations, and your dog will be the star of the show in their stylish and comfortable attire. So, take your time, choose wisely, and enjoy the Halloween festivities with your furry friend. And remember, when you and your pet need a convenient solution for potty time, Gotta Go Grass is there to provide a hassle-free and hygienic alternative, ensuring more quality time with your beloved pet. 
DIY Dog Halloween Costumes
Crafting a homemade dog costume can be a rewarding and cost-effective way to dress up your furry friend. Here are some creative DIY ideas: 
Ghostly Canine:

Transform your dog into a friendly ghost by draping a white sheet with holes for eyes over them.
Pumpkin Pooch:

Create a pumpkin costume by cutting holes for your dog's legs in an orange fabric, adding a green hat for the stem.
Superhero Sidekick:

Turn your dog into a superhero by making a simple cape with their favorite emblem.
Sushi Sensation:

Craft a sushi roll costume using a soft, foam-like material for the rice, and add felt pieces for the fish and other ingredients.
Creating a homemade costume not only allows for customization but also strengthens the bond between you and your dog. Be sure to supervise your dog while they're in costume to ensure their safety. 
Popular Dog Halloween Costume Trends
The world of dog Halloween fashion is ever evolving. Each year, there are new trends and themes that captivate pet owners and their furry companions. Here are some popular costume trends: 
Movie Characters:

Iconic movie characters such as Batman, Harry Potter, and Elsa from Frozen continue to be a hit.
Food-Themed Costumes:

Food-themed costumes like tacos, hot dogs, and donuts have gained popularity. They're both adorable and amusing.
Classic Monsters:

Traditional monsters like Frankenstein, Dracula, and werewolves are timeless choices.
Superheroes:

Superhero costumes like Wonder Woman, Superman, and Spider-Man are a go-to option for many pet owners.
These trends are not only cute but also reflect the creative spirit of Halloween. Including your dog in these popular themes adds a unique and heartwarming touch to your celebrations. 
Safety First: Tips for Dressing Your Dog
While dressing up your dog can be loads of fun, it's essential to prioritize their safety and comfort. We'll discuss important safety considerations, such as making sure the costume doesn't obstruct their vision or breathing. Always monitor your dog for any signs of distress and ensure they can move freely. Here are some tips to ensure your dog's well-being when in costume: 
Avoid Small Parts:
Steer clear of costumes with small parts that could be chewed off and swallowed. This poses a choking hazard. 
Monitor Temperature:
Ensure your dog doesn't get too hot. Remove the costume if they appear overheated. 
Check for Allergies:
Be mindful of any allergic reactions to costume materials. If your dog exhibits signs of discomfort, remove the costume. 
Supervision:
Keep a close eye on your dog when they're in a costume, especially during their first few costume experiences.
Dog Costume Contests and Events
In recent years, dog costume contests and events have been on the rise. These gatherings provide a fantastic platform for pet owners to showcase their creative costume ideas and for dogs to socialize. From small community events to large-scale contests, there's no shortage of opportunities to participate in the Halloween fun. 
These events often include prizes for the best costumes, making them an exciting challenge for pet owners who want to take their costume game to the next level. It's also a great way for dogs to make new friends and enjoy a little extra attention from adoring fans. Taking Great Photos of Dogs in Costumes: 
What's Halloween without capturing adorable moments? Taking great photos of your dog in their Halloween costume is a fantastic way to capture the essence of this fun holiday. These memories will last a lifetime and serve as a reminder of the joy and creativity that dressing up your furry friend brings to your Halloween celebrations. So, get your camera ready, create a comfortable and well-lit environment, and have a blast photographing your dog in their adorable Halloween costume. 
To wrap up our Halloween adventure, dressing up dogs for Halloween is a delightful way to involve your furry friend in the festivities. It fosters a sense of togetherness, provides endless photo opportunities, and allows you to get creative with your pet's style. So, as Halloween approaches, remember to prioritize safety, consider your dog's comfort and mobility, and, most importantly, have a howling good time! 
At Bethel Farms, we fully understand the significance of your beloved pet in your life, because, just like you, we are pet owners ourselves. Our primary goal is to assist busy pet parents in providing their furry companions with a natural and clean space for their relief needs, all while being mindful of our environment. Whether you're ready to order your dog grass pad today or wish to discover more about our dedication to your pet's well-being, don't hesitate to get in touch with us. Your pet's comfort and happiness are at the heart of our mission.